2000
The first day of 2000 would bring the hardest hike of the Milford Track, crossing Mackinnon Pass at 1036m. The day was mostly rainy in the first half, which was a double-edged sword: while the far-off views were obscured, the hundreds of waterfalls through the valleys would be more spectacular.




The first half of the day was uphill to the pass; as the weather got colder, we put on more and more clothes, eventually wearing hats, gloves, jackets - the works. Snow could be seen on the peaks around us; New Zealand was having a cold spell to welcome the new year. The climbing helped to keep us warm, and we were treated to the change in scenery as we left the rainforest and climbed up to the scrub above the tree line.


After arriving at the peak lodge, we warmed up around the gas heater and filled up with steaming cups of tea and instant soup (I never knew instant soup could taste so good!).


The weather on the second half of the day as we hiked down from the pass to Quintin Lodge. The drying room (actually the waste heat from the generators) was full with all of our wet clothes and boots. Our boots were especially soaked this day from our side trip behind the Sutherland Falls.


At the base of the falls we hiked (well, waded is a better word) through the pool at the bottom of the falls, and to a small hollow behind the falls at the bottom. Sutherland Falls was the inspiration for the opening of the Milford Track; it allows people to hike to the falls in a few days from the east, rather than forcing a sea voyage and a day's hike from Milford Sound. Sutherland Falls is 630m high, and is quite a sight. The first image on this page of the falls is taken from at least 1/4 mile away. The image at right shows Shelley walking back from behind the falls at the base.
Our last day brought us through more rainforest, past several landslides, and finally to Sandfly Point. Some of the ferns were probably 12 feet tall. As we approached Sandfly Point (and a ferry to our end point in Milford Sound, our pace quickened, knowing that a hot shower (and a cold beer) were waiting for us at the end of the day.

Milford Sound
As I mentioned previously, Milford Sound is one of the most beautiful places we've ever seen. Arriving via the Milford Trail by foot, rather than by a Cessna airplane, gave us a completely new perspective on Fjordland National Park. While the weather wasn't as spectacular for our second visit, we were treated to pods of dolphins swimming along with our boat as we sailed the Sound. After our morning cruise, we jumped on a bus that would take us back to Queenstown to meet Sue and Ray. A few pictures from the cruise on Milford Sound are shown below.

| | |
| --- | --- |
| | |
| Sunset on Milford Sound | Dolphins in Milford Sound |
Relaxing in the boat on Milford Sound

Milford Village (at the bottom right)
shows the scale of the Sound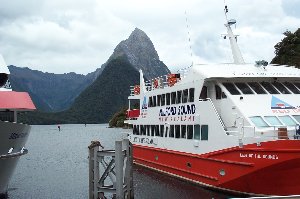 The boat on Milford Sound