Our stay in Australia ended with a fantastic stay with dear friends David and Lyn Ellis, including a two day trip to Wilson's Promontory National Park southeast of Melbourne (I believe it is the southernmost point of mainland Australia, with the island of Tasmania due south).

Wildlife abounds; wombats, emus, kangaroos, wallabies, deer, and all kinds of birds complemented the stunning scenery. We walked along miles of beaches without a soul nearby, and took hikes through the rainforest.

David, Lyn, along with Rod and Marj Home, had raved about "The Prom" since we had met them in New Zealand 2 years ago; it certainly lived up to it's billing!

We started by driving down to Venus Bay, where we would stay at the summer home of a relative, and walk along miles of deserted beaches. On the way we stopped at an old coal mine for a tour. Shelley seemed to be the favorite of the old miner showing us around: he must have known about her previous work experience (American Standard), since he had her demonstrate a particular piece of equipment in the mine (see the picture at right for explanation).

We got up early to catch the sunrise at Wilson's Promontory, where we snapped photos of beautiful scenery and saw lots of Kangaroos hopping around. Afterwards, we walked along beaches and through the rainforests of the Prom.

At the end of the day we returned with David and Lyn to their home in Melbourne, where we enjoyed yet another fantastic meal. (Lyn and David are both wonderful cooks!)

Wilson's Prom was a wonderful way to end our stay in Australia. Beautiful scenery, wildlife, and not too crowded on this fall weekend.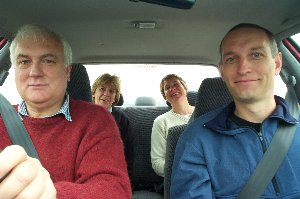 David, Lyn, Shelley and Steve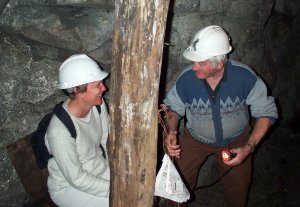 Shelley uses her previous ASD
work experience in the mine
(What is she sitting on?)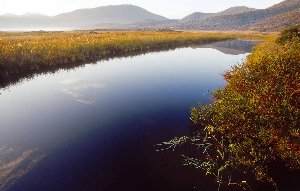 Dawn at Darby River
(Photo by D. Ellis)


Walking along Squeaky Beach
(Photo by D. Ellis)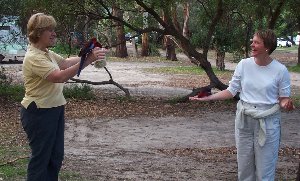 Lyn and Shelley feeding the Lorikeets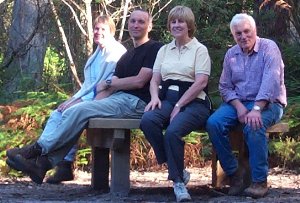 Taking a break while walking through
Lilly Pilly Gully