We started our cross-USA odyssey at Fort Stevens State Park, dipping our tires into the Pacific Ocean on May 11. If all goes well, some time in October of this year we'll dip the tires in the Atlantic Ocean at Yorktown, Virginia. In between we'll ride about 5,700 miles. Added to the 900 miles ridden in Australia, we'll hit the magic 10,000 km (6,250 miles) in about 7 months.
Meeting us in Portland were Ray and Sue Bitel, Shelley's parents from Kansas. They drove all the way out to Oregon to help us start the trip, and graciously carried our gear for the first 10 days of our trip. We must say that it was easier to get over the hills with only a day's provisions and no camping gear being pulled behind the bike. They returned to Kansas, and we were back to the full load on the bike.
The Oregon coast is spectacular; the scenery rivals Australia's "Great Ocean Road" where we started the trip back in March. We cycled down the coast for about three days, camping while the Bitels stayed in yurts (think: nice teepee). Coming inland we hit Corvallis and Eugene, both fine college towns, and took a day rest in Corvallis to escape a day of rain.
Eugene gave us the opportunity to visit the Burley Design Cooperative factory - one of the bigger tandem manufacturers in the world. It was interesting to see the various phases of construction from bare tubes to fully built tandem bike. They also build recumbents bikes, trailers, raingear, and even some of the parts for the yurts we find in the state parks in Oregon. Another good sign for this company: most of the employees ride a bike to work. We wonder if they need some computer or finance work?
We took a couple of days diversion in our route to ride the stunning Aufderheide Byway between Oakridge and McKenzie Bridge; 70 miles of great climbs and descents through tall trees and past dozens of creeks, and just a handful of cars. We'd put it up on one of our best rides ever - to be rivaled just the next day.
Riding over McKenzie Pass was a treasure. Smooth roads and - best of all - a closed road. No cars for the 25 miles over the pass. While there was plenty of snow on the side of the road, the road itself was perfectly clear; the reason for the road closing was for planned construction (although not in evidence on this Saturday). We rode up through tall trees, across the pass surrounded by a volcanic rock wasteland, and down into the drier high desert scrub on the eastern slopes of the Cascades.
Next up was a sprint to Pendleton, OR, for the Northwest Tandem Rally. It was a great rally - we made some new friends, saw a couple of old ones, and enjoyed the hospitality of Pendleton. There were 260 tandem teams there, with many flashy new bikes on display. Our heavily-used tandem pales in comparison to the nice paint jobs on the newer bikes, and ours has a lot more miles to go.
If you've never been to a big bike rally (especially a tandem rally), it's an interesting site to see hundreds of tandems pulling out under police escort through the center of town. Rides through the rolling hills, over a pass, and some rather hot weather made for a good Memorial Day weekend. We also won the award for coming the farthest to get to the rally (it's hard to beat Hong Kong - our friends Rich and Ina from Atlanta came in second).
Oregon struck me for it's diverse climate. I had expected the tall forests that we found on the west coast, but the high desert we hit once over the Cascade Mountains was a surprise. Once we got into the dry country, virtually everyone we met would warn us about the rattlesnakes. After a while, we'd anticipate it - "yeah, it's nice up there," they'd say, "...but WATCH OUT FOR THE SNAKES!" It got to be a pretty good joke after a while - we could almost complete people's sentences. The funny thing was that just about everyone said there were snakes in the next town down the road - never in *their* town. :-) (For the record, we haven't seen a rattler yet, except for perhaps a flat one on the road).
One day we were relaxing in a park at the John Day visitor's center, reading books and waiting for the hot mid-day sun to go down before finishing our ride to a primitive campground near Kimberly, WA. A cute little four year old boy wanted to give Shelley a small wildflower he had picked, but was too
shy - his mother passed it on for him. Emboldened by Shelley's words of thanks, a few more flowers came her way. What a flirt. :-)
Two riding days later, at another campground, who should come up to our campsite but the same cute boy, this time bringing a bunch of Lilacs in a beer-bottle vase. Nathan, along with his parents Sara and Mark, offered us a couple of beers and some marshmallows to toast (we provided some Jiffy-Pop popcorn for the party). It was a nice evening to sit around the campfire and talk about the beautiful places around Oregon.
We crossed over into Walla Walla, Washington, and promptly sent our rear axle and freewheel to that parts bucket in the sky. A couple of days later we were on the road after getting parts shipped from across the USA, and crossed over into Idaho on June 2, 2001.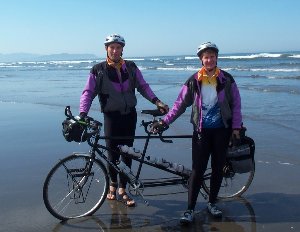 Dipping our tires in the Pacific Ocean
at Fort Stevens, Oregon
May 11, 2001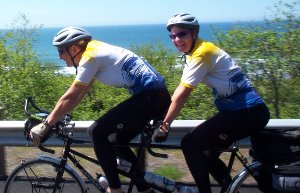 Cycling along the Oregon Coast

Shelley with her parents,
Sue and Ray Bitel

Oregon coast views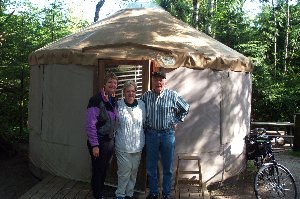 Roughing it in a Yurt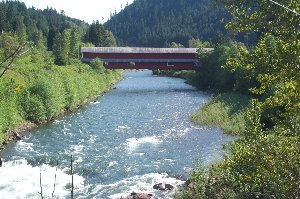 Covered bridge at Westfir, Oregon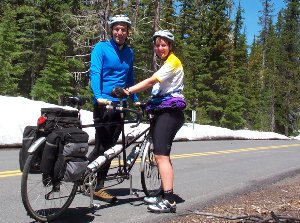 Snow along the McKenzie Pass road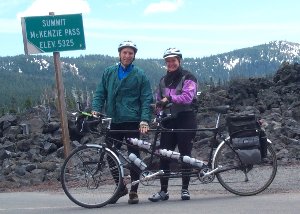 One mountain pass down;
(???) to go!

High desert at John Day, Oregon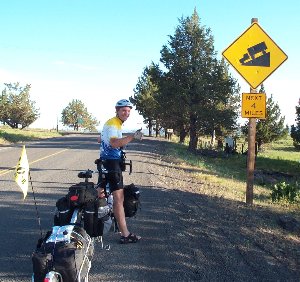 We really love the downhills!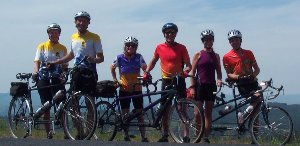 Some new friends at
the Northwest Tandem Rally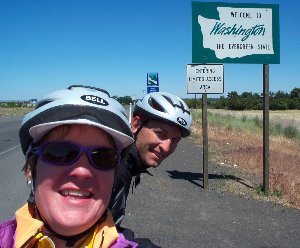 Goodbye, Oregon;
Hello Washington!