Ahh, Virginia. I think we timed this state correctly. We left the relatively rough eastern Kentucky for Virginia, passing over some of the last ranges we'd see in the USA, and were treated to wonderful foliage and rolling hills. We had fantastic weather, unseasonably warm, with bright sunshine to light up the fall colors. Along with western Kentucky this would probably be among our favorite cycling areas of the trip.

Our first night in Virginia was a treat as well - staying in the Elk Garden United Methodist Church just outside of Rosedale, VA. On the Transamerica trail since it was opened in 1976, the church has been opening its doors for passing cycle tourists, offering a well-equipped kitchen and the use of the sanctuary for sleeping on the soft carpeted floor. We also timed this one well - being entertained by the choir practice in the evening. Pastor Paul and his congregation's hospitality have charmed many cyclists through the years, including many that we met on the trail this year.

Riding on to Damascus, VA brought us to a crossing with the Appalachian Trail. Damascus is rebuilding a nice city based on outdoor tourism - hiking and cycling the area's trails, including the famous AT. Another United Methodist Church offers a nice hostel for AT hikers and Transamerica cyclists for $3/night. We were fortunate to have a short day into Damascus, giving us lots of time to explore the town. A return trip, either for hiking or mountain biking, may very well be in the cards.

Finally, our Virginia leg was completed on another beautiful ride into Independence, VA. Finding that the hotels we had expected to be open were closed, we once again found ourselves the recipients of more hospitality from the United Methodist Church, with Pastor Kathy allowing us to sleep on the floor of one of their small classrooms. She also took us on a tour of the area in her car, showing us some interesting rock formations and entertaining us all the way. Three days in Virginia, and three days we were offered a place to stay by the UMC.

We left Virginia for North Carolina via more picturesque side roads, taking a slight detour in order to ride a few miles on the famed Blue Ridge Parkway. Closed to commercial traffic, with a 45 mph speed limit and great views, this road is a famous bike touring destination. Once again, another place to visit again in the future!

We arrived in Mount Airy, NC where we met up with our dear friend Joe Rutch, who came down for the Cycle North Carolina bike ride, 1000 riders crossing the state to the east coast. It was great to see Joe again - he's the guy who flew out to Australia to help us kick off this "Plan B" trip back in March 2001. We also met some of his friends from a previous bike tour: Nancy, Kendel, Stan and Leo. The seven of us would form a group for the next week, cycling, eating, and camping together.

The CNC ride had full SAG support, carrying registered riders' gear from place to place. We pulled our BOB trailers, making us rather recognizable on the road. "Here come The BOBs!"

Each night the CNC riders would camp in a park or school yard, a huge tent city springing up in the cities where we stopped. Bands would play at the campsites, vendors selling gear, and food was available (for the most part). For the first 3 nights the campers were treated to freezing cold weather, waking to thick frost all over the tents and bikes left outside. Shelley and I were wearing everything we had with us at night to stay warm in the tent! Fortunately, it normally warmed up in the daytime, and we had warmer evenings for the last few nights. As the terrain became flat towards the eastern part of North Carolina, pacelines started to develop, bringing our average speed up to levels we haven't seen since being on the tandem in western Kansas. It was fun to cruise along at 22mph while pulling 60 pounds of gear behind the bikes. Many of the riders were riding full-zoot racing bikes weighing less than 20 pounds - our full rigs were closer to 85 to 90 pounds. (Downhills are our friends.)

Our last day riding brought us to Elizabeth City on the coast - and the finish line for our trans-USA and Canada leg of this Plan B trip. It feels great to finish this, and we look forward to going on to the next phase of the trip in Europe, Asia, and Australia/New Zealand.

Our trip across North America was nearly 6000 miles over about 5 months, although we took several weeks off the bikes as we stopped at various places along the way.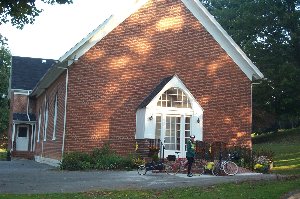 Elk Garden United Methodist Church
our place to stay outside Rosedale, VA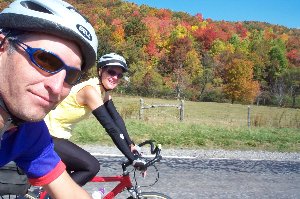 Riding through changing trees
Appalachian Mountains, Virginia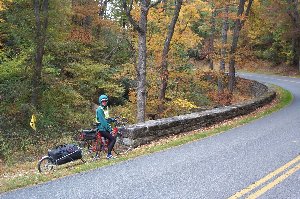 Riding on the Blue Ridge Parkway
North Carolina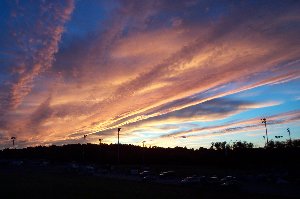 Sunset in Mount Airy, North Carolina
(the start of the Cycle North Carolina ride)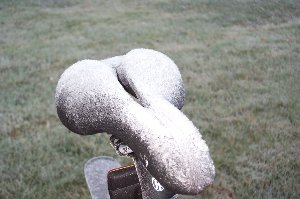 Frosty bike seat in the morning!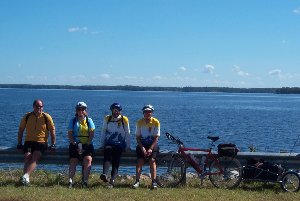 Lakeside Break
(Leo, Nancy, Joe, Shelley)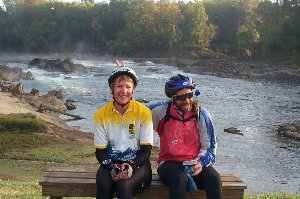 Shelley and Joe at Roanoke Rapids, NC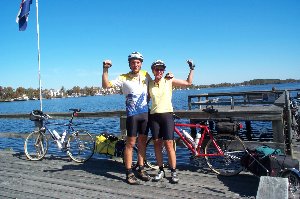 Finish Line!
Elizabeth City, North Carolina
Trans-USA and Canada trip completed
5,962 miles (9539 km) in North America