After spending a couple of days in Sevilla, Spain, we made our way to the Portuguese border for the last two weeks of 2001. Crossing the river by ferry to the south of Portugal, we climbed up the center of the country for nearly half it's length, staying in small mountaintop fortified villages along the way.

As much as we enjoyed southern Spain, Portugal seemed even better. The people were generally very friendly, with only one or two notable exceptions - both associated with the national bus service. The food and accommodations were inexpensive and easy to find, although in some cases unremarkable as well. We even found that the English skills of the Portuguese were generally higher than in Spain - perhaps because Portuguese is less widely spoken in the world, and most English-language movies and TV shows are shown in their original English with Portuguese subtitles, versus the dubbed language tracks more common in Spain. In most cases we could use English or Spanish, with a small amount of phrasebook Portuguese to get by.

On our first day riding in Portugal, we came across some signs directing us to a detour, with access to local traffic only. In the spirit of adventure (and to cut miles that the detour would add), we pressed on, only to find a bridge "out". At least the walkway was still mostly intact, and we could push our bikes across. Fortunately, the countryside roads would prove excellent through the rest of the Portugal leg, although the small lanes in the town were usually very rough cobblestones. Good thing we had mountain bikes - road bikes (or the tandem) would have been a little painful!

Our first night happened to be the evening before national elections were held. A large procession of perhaps 100 cars drove through the town of Mertola, beeping and waving flags for their favorite political parties. At first we thought it was a group of fans going to see a soccer match!

A couple of days later we were in Monsaraz, a small walled fortress/town (pop. 150) at the top of a rather steep mountain. Fantastic view around, although the rain came during the evening and gave us another taste of the colder weather we could expect now that it was getting to the end of December. Our room was in an ancient apartment, complete with an affectionate housecat that looked unfortunately similar to "Bill the Cat" from "Bloom County".

When heading west towards Lisbon, we decided to take a bus to Evora to skip a few highway miles, our first attempt to take the bus in Portugal. We got a rude surprise - the bus service in Portugal is much less cycling-friendly than their neighbors in Spain. After some negotiation with the "Pope of the Counter" (and a few extra escudos paid), we made it on the bus. A similar experience a few hours later at the bus terminal in Evora, along with the cold weather, helped us to decide to make a small change in plans to our schedule. We would cycle back east towards Spain, take a bus to Madrid (on the friendly Spanish bus!), and then fly on to Lisbon (and a rental car) for our last week in Portugal.

After having snow in Madrid on the morning of our flight (a very unusual occurrence for Madrid's normally warm climate), we picked up a rental car in Lisbon and drove up to Fatima, the site where three shepherd children saw a vision of the Virgin Mary in 1921. We stayed there for a couple of days, including Christmas, and used the car to explore some of the cities surrounding the area. We then returned to Lisbon for a few days in Portugal's capital city before flying on to visit friends in Hong Kong, our last "home" before starting on this trip.

The food in Portugal was a little monotonous - usually a good hot vegetable soup, large servings of fried meat (pork and salt cod were king), greasy french fries, and an inexpensive bottle of red table wine (along with the soup, it was usually the best part of the meal). Salt is used liberally, as is olive oil. We hope the red wine offsets the damage caused by the fatty foods! Breakfast was usually a hot, milky coffee called a "Gallao" (like a latte without the foam or the high price), along with thick "Torradas" (toast) buttered liberally on both sides. It usually was our favorite meal of the day! Towards the end of our stay we discovered "Frango Asado" - roast chicken. When possible, we'd head for the "Churasquiera" - an inexpensive restaurant where the specialty is roasted meats.

After leaving Portugal, we flew to Hong Kong on New Year's Eve. We passed over St. Petersburg, Russia, at midnight; the flight attendants passed out champagne and led a countdown to the New Year at 35,000 ft.

Hong Kong was wonderful - just like being "home". After all, our last home was there about 10 months ago! We stayed with our dear friends Jim and Mandy, and visited many more friends and colleagues from our previous jobs at American Standard and IBM. It almost felt like we never left - even Ray and Sherry, our next-door neighbors from our time in Hong Kong, have returned to Hong Kong after leaving when we did 10 months ago. The food, energy, hustle and bustle of the big city were fun to experience again. We even experienced a session of "Reflexology" - Chinese foot massage meant to improve health. Alas, all good things come to an end - we finally left for New Zealand and more sunshine, cycling, and the relaxed lifestyle of this beautiful country.

A city square in Cadiz, Spain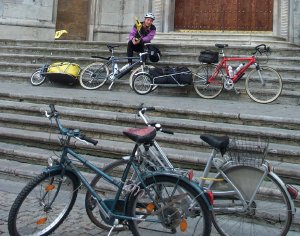 Cruisers and expedition/touring bikes
in front of a cathedral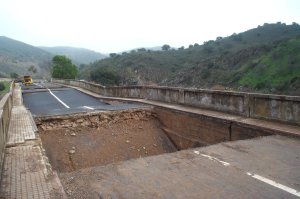 Bridge Out! (Southern Portugal)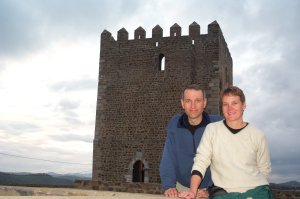 Sunset at the castle in Mertola


Life-sized Nativity in Monsaraz