Greetings from Denver, Colorado!

When we finished our Plan B trip a few months ago, we took a little time off to relax and visit some family and friends. (Relax after nearly 2 years off? Hey, we were cycling!)

Highlights included going to Banff, Canada for our friend Garry's wedding to Carolyn - a beautiful wedding, seeing old friends from school, and the added bonus of several days skiing in the Canadian Rockies. We were in Banff back in summer 2001, and enjoyed seeing the place in the winter.

While we stayed with Shelley's parents in Derby, Kansas, we were able to travel up to Manhattan, Kansas for several Kansas State University football games, as well as to Lawrence, Kansas for virtually all of the University of Kansas home basketball games. However, probably the best part of this was being able to go to the games with our old friends from college, making it feel like old times again. Thanks to Kevin, Dianne, Brett and Mindy for all the fun weekends!

When we finished, our #1 target location to hang up our bikes was Denver, Colorado. We had cycled through the state twice during Plan B, and fell in love with the mountains. Denver is a fairly large city, and offers both employment opportunities and a pretty good outdoor lifestyle just up the slopes.

Shelley has taken a job with Samsonite as Director of Internal Audit. She's excited about the job, which will also allow her to travel around the world (this time in a plane). Steve will now focus on finding a job in Denver, which should be easier now that we're actually living here.

We got here a week ago, and have taken a temporary place for perhaps a month. Then, we'll move into an apartment for a few months while we decide which neighborhood we'd like to call "home".

Once Shelley had her job lined up in Denver, we had to scramble to buy a couple of cars. Keep in mind that we really haven't had to worry about a car since we left New Jersey in 1995. We drove a few dozen different cars, eventually settling on a pair of Mazdas: a cute, red Miata convertible, and a black Tribute sport-utility vehicle. The Miata will be fun in the summer with the top down, but we have the detachable hardtop to make it a 4-season car (more or less). The Tribute will be great for camping trips, hauling things around town (including bikes), and the 4-wheel-drive will come in handy when the snow hits. Shelley's favorite feature? The heated leather seats! It is weird to have a couple of new cars to cruise around in after using our bikes for so long.

We're both excited about our new home, and actually strangely enthusiastic about going back to Plan A.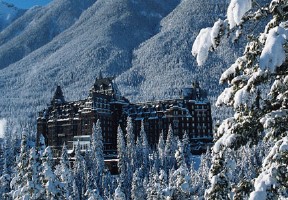 Nice place for a white wedding
Banff Springs Resort




KSU Stadium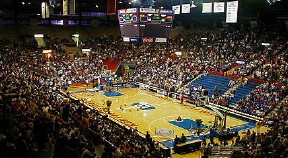 Allen Fieldhouse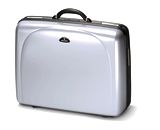 Shelley goes to work at Samsonite





Fun in the sun




Fun in the snow