The last time I sent out an update, we had just completed the Transamerica portion of the trip in North Carolina. The last month has been a scramble of non-cycling trips around the USA and western Europe. Finally, yesterday we got on the loaded bikes for the first time in over 5 weeks.

First, we flew back to Houston to visit Steve's family, then up to Kansas for Shelley's family (and another two football games at K-State). It was great to see everyone again, and the time off the bikes were used to run errands and take care of logistics for the next legs of our travels.

We got the tandem back from Santanna (remember that?), and the repair looks as good as new. We will rebuild it completely when we eventually settle down; for now, we'll stick with the mountain bikes and two trailers.

We then flew back to New Jersey to stage the jump across the Atlantic; we had a fun time visiting our old friends and co-workers from the area, as well as visiting New York City a couple of times. We saw the Halloween parade in the Village (quite interesting). We also were able to ride with JSTS (our old bike club) on one of their weekend rides; it was nice to ride without 50 pounds of gear behind our bikes for once!

Finally, it was time to leave the comforts of Joe's condo and head for the road again. We flew to Paris, where we rented a car (a green Citroen Saxo, the same car Steve had in Brussels), put the bikes and trailers inside (yes, all of it fit inside this small hatchback!), and drove into the city, where we met with our friends Ivan and Isabelle. Leaving the gear in their home, we spent a few days visiting the beaches of Normandy, the site of the D-Day invasions during WW2, complete with mixed weather ranging from sun to rain to wind and hail. This is definitely the off-season for Normandy - it was fairly well deserted, and nice to see from the warmth of the car.

We then went to Mont Saint Michel, a spectacular abby built high on an island, before driving down to the Loire valley to meet with Ivan and Isabelle for the weekend. We visited the castles of this beautiful area with our own special tour guides (trying lots of great French cuisine along the way). Although the weather was cold, at least we got some sunshine on our visits.

After the weekend with Ivan and Isabelle, we drove to Germany, where we would meet with our friends Sabine and Guido in Bonn. We spent a few days relaxing, visiting sites around Bonn and Cologne, and meeting another friend (also named Sabine) who once stayed with us in Hong Kong (it seems a lifetime ago now). Sabine (#1) has a 2 year old boy named Luca - a very well behaved young man. However, one day, he reminded us why they're called the "Terrible 2's". Good kid, good lungs. He really is a great kid, and he even taught Steve some German from his picture book. Now, if I can only figure out how knowing the words for "cat", "dog", "truck", and especially "NO!" will help me order dinner at a German brewhaus...

We also took a day trip into the Netherlands and Belgium to visit a pair of US Military cemetaries from WW2. The site of thousands of gravestones all lined up in neat rows is quite moving. Sizes of these places is often disturbing:
Normandy, France: 9387 burials, 1557 missing
Margraten, Netherlands: 8302 burials, 1722 missing
Ardennes, Belgium: 5328 burials, 462 missing
And these are only the ones we visited on this trip - there are many more like them throughout Europe and the rest of the world. It helps one to remember the sacrifices of the men and women before us. (FYI, the largest US Military cemetary outside the USA is in the Philippines - Shelley has visited it. 17,206 burials, and an astounding 36,282 listed missing.)
At the Ardennes cemetary outside Liege, we met Hans Hooker, the very friendly American supervisor. Upon hearing that we were from the USA, gave us a very nice personal tour of the facility, offering us all kinds of information and hospitality. We think he may have been happy to have other Americans to talk to!
We then drove to Brussels, our home a few years ago. We visited friends there again, mostly co-workers from Shelley's posting at the American Standard office there. It was nice to visit again, and we enjoyed some Belgian specialties of beer, chocolate, beer, mussels, beer, fries, stoemp, and beer. Amazingly enough, during the entire 27 hours we were in Brussels, it didn't rain (probably a record for November).
Finally, it was time to leave the colder north and head south. We drove back to Paris, met Ivan and Isabelle again, and after a short evening's sleep, we loaded up the car, drove to the airport, and flew to Madrid, Spain, for the start of the cycling portion of this European leg. We hope that the weather in the south of Spain will be good for cycling - we will probably spend most of it south in Andalucia, as well as up the coast of Portugal.
Many of you probably know that 13 countries in Europe will be switching to the "Euro" currency at the beginning of next year. It would have been a great thing if it was available to us on this trip. We have spent French Francs, Luxembourg Francs, German Marks, Belgian Francs, and now Spanish Pesetas (didn't spend in Netherlands, and haven't made it to Portugal yet). 6 currencies, 6 exchange rates to remember, and what do you do with the change when you leave the country? Come January 1, the Euro will be in paper and coins, and will make travel and commerce a little easier in Europe. The fact that the Euro is nominally close to the value of the US Dollar helps a bit, too - it's easy for me to relate to a drink that costs "2" of something, not so easy to relate to a small used car that costs "1,000,000" of something else.
Once again, we'll miss Thanksgiving. It's perhaps our favorite holiday, a good excuse to relax, eat, and watch football on TV. For 6 years now we've been out of the USA at this time of the year, trying to replicate the holiday in Singapore, Belgium, Hong Kong, and now Spain. Somebody please save us some leftovers!

Tailgate party at K-State:
Dianne, Kevin (water), Craig,
Shelley (milk), Steve (nothing)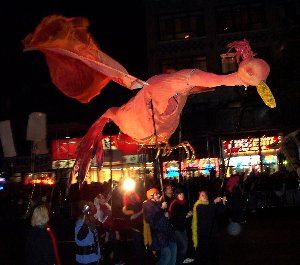 Boo!
Halloween parade in the Village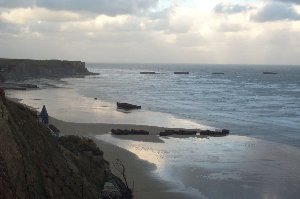 WW2 era temporary harbor
at Omaha Beach, Normandy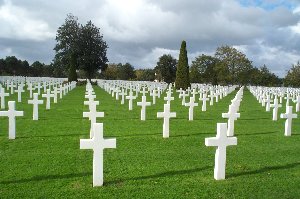 US Military Cemetary at Normandy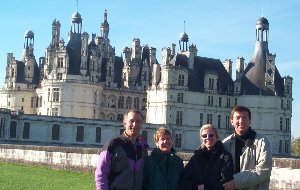 At Chateau Chembourg with Isabelle and Ivan
Loire Valley, France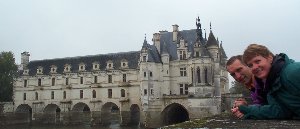 Chateau Chenonceau, Loire Valley