Finishing up the state of New Mexico would turn out to be some of the toughest riding we've tackled. We started in Grants, heading north into Cibola National Forest - but first, we had to get written permission from the forest ranger in order to cycle through. The drought has caused the closure of many of the national forests throughout the southwest due to the risk of fire.

A big issue has been access to water - although we've become a little more adept (read: smarter) at filling up our water jugs at any and all opportunities. We've taken water from small springs (virtually just mud puddles), stock tanks filled by windmills, and (very occasionally) the streams that are still flowing.

Our first night out of Grants turned out to be one of our worst camping days ever. Setting up camp on a dry mesa after a long day's ride, the wind kicked up to gusts of about 60 mph, threatening to rip our tent to shreds. We tried to trade off through the night - one of us trying to sleep, the other one trying to hold the tent together by leaning against the tent wall from inside. The wind didn't stop until the next afternoon, but amazingly our tent wasn't destroyed - only our sleep that night! With the wind this strong, we were unable to eat either dinner or breakfast (beyond a few granola bars), as there was no way to light our stove in the tempest.

Our next day cycling was again hard, but fortunately the wind died down, and we found a good spring to share with a herd of cattle. It's amazing how happy we become when we find some water out in the desert! However, the best was yet to come - in the form of Keller Davis, driving by in his Jeep on his way home from work on a ranch. He stopped to talk to us about our trip, and offered us a couple of cold drinks from his cooler. Those drinks went down in seconds flat!

One campsite at the Hunter's Campground on top of another mesa gave us the most spectacular lightening display we've ever seen. With 360 degree views out 20 or more miles, the lightening was striking all around us, peaking at perhaps 10 strikes per second. Fortunately, we were spared much of the wind that we had the previous night, and eventually we got some much needed sleep after two days of hard desert riding.

We descended from the high desert down to the town of Cuba, where the closure of the Santa Fe National Forest would bring our first forced detour of the trip. However, we were able to re-route around the forest using some nice dirt roads, including a good campsite right by the running river coming off a dammed lake. Others liked the campsite as well, including a nice 4 ft. bull snake at our first campsite.

We cycled into the town of Chama, home to the Cumbres & Toltec Scenic Railroad. Another casualty of the closed national forests, the old steam trains sat idle, and this tourist-based town is feeling the economic impact of that decision. We were able to explore the trains and facilities, but may tourists who would come to visit for a ride went away disappointed.

Climbing out of Chama took us over two big passes - Cumbres, at 10,022 ft., and then La Manga, at 10,230 ft. Finally, we had crossed into Colorado, and the terrain seemed to change almost at the border. Streams had water, trees were green, and the stark beauty of the mesas and high desert of New Mexico seemed to be replaced with lush mountains covered with aspen and pine.

We camped at the Spectacle Lake campground, where we met another of the gems of our trip: Wes and Beth Daniel, the camp hosts. We spent the evening playing card games and eating some of the best brownies we've ever had (sorry, moms!). It was hard to say goodbye to our new friends the next morning.

After crossing Stunner Pass at 10,541 ft, we climbed up to the highest point on the Great Divide ride - Indiana Pass, at 11,910 ft. The climb up to this height pushed through some fantastic mountain scenery, punctuated by the stark ugliness of the nearby Summitville Superfund cleanup site - once a huge mine, now a healing scar that still leaches heavy metals into the surrounding surface water.

What goes up must come down - that's what the song says. From Indiana Pass, we had a fantastic 20 miles downhill through groves of aspen and pine to the town of Del Norte, where we'd stop for a couple of days to recharge our batteries. We had mixed feelings about dropping some 4000 ft - it was fun, but we knew we'd have to climb up again!

Three days of riding would bring us a few more passes and continental divide crossings, including Carnero Pass at 10,166 ft. (see - we did have to climb up again!), and Marshall Pass at 10,842. We stopped at the one-horse 'town' of Sargents (motto: Elevation High, Population Few), where we were able to convince the manager of the closed bar to cook us a few hamburgers for lunch and dinner. After days of instant noodles and camp rations, a couple of burgers can make all the difference.

The climb up to Marshall Pass was great - going along an old railway grade, which means it is generally a gradual climb. The other side of the mountain, also at railway grade, allowed us another 20 mile decent along gravel roads back to the 7800 ft of Salida, Colorado.

One of Shelley's cousins, Krista, lives outside Salida with her husband Craig. We would spend a few days with them around the July 4 holiday, enjoying the supreme comfort of a soft bed, hot showers, and the company of two friendly dogs.

Salida is a charming little town of about 5000 people, with a great downtown, nearby Monarch Ski Area, and some of the best mountain bike trails in Colorado. One not-to-be-missed trail is called the Crest Trail, traveling some 32 miles of often technical singletrack at altitudes between 11,000 and 12,000 ft. Shed of the weight of our trailers and gear, we joined Craig for an afternoon of bumps, jumps, and bruises along what is considered the best singletrack in Colorado. It was an epic ride - views from the top of high ridges, and varied terrain ranging from above-the-treeline clear views, to thick aspen groves, to riding up the middle of a stony creek. It's a ride we won't forget.

Next up: heading up to the ski resort towns of Breckenridge, Frisco, and then to Steamboat Springs, before leaving Colorado for Wyoming.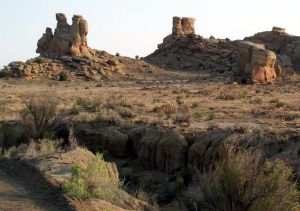 Interesting scenery in northern New Mexico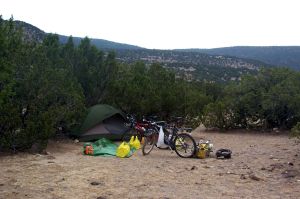 Dry camping at the Hunter's Campground
outside Cuba, New Mexico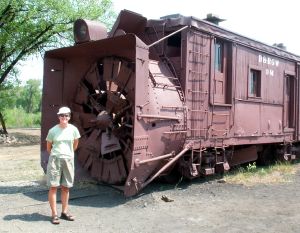 An old steam-powered rotary snowthrower
from the Cumbres & Toltec Scenic Railroad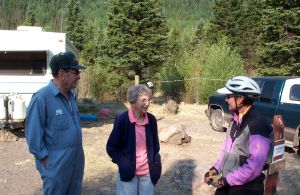 Shelley chats with Wes and Beth Daniel,
camphosts at Spectacle Lake Campground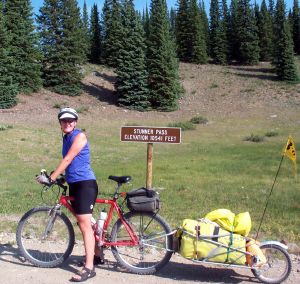 Crossing Stunner Pass - 10,541 ft


Near Summitville, CO
(Superfund cleanup site)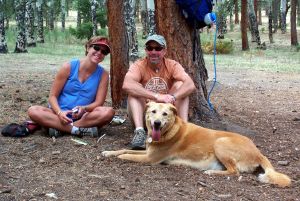 Shelley's cousin Krista and Craig Martin
hiking (with Zeb) near Salida, CO