April is a good time to be on the south island of New Zealand; most of the tourists have left, as the weather is getting a bit colder. We started the month of April about as far south as you can get - Invercargill - and generally worked our way up north via Fiordland, Queenstown, and the West Coast.

First up was to be an overnight cruise of Doubtful Sound on the Fiordland Explorer. This was a nice way to see the area, giving us lots of time to relax, as well as some time to do some kayaking. We visited Milford Sound on our last two trips to New Zealand, and it was good to compare Doubtful and Milford. (For the record, we think Milford was a bit more spectacular, at least on these occasions). The entire Fiordland area of New Zealand is quite remote - no road access, in general, and no settlements on the very steep sided fjords carved by glaciers millennia ago.

After returning from Doubtful Sound, we cycled up towards Queenstown taking the road less traveled. The two-day ride on the road up to Walter Peak station (via Mavora Lakes) is all gravel, cutting up through a valley and eventually dropping down to the station on Lake Wakatipu. The scenery is spectacular, shared only with the cattle on both sides of the road (and frequently in the middle, too).

The distance involved meant that we would camp at Mavora Lakes for the night. A cold snap meant we were not going to have a good night's sleep; our water bottles were frozen in the morning when we finally crawled out of the tent. We wore just about every scrap of clothing we had, and still woke up every hour to look at our watches, waiting for the dawn to finally arrive so we could get on with the ride. (Future purchase for our upcoming North American continental divide mountain bike ride: warmer sleeping bags!) We survived, and the next day was clear and warm, helping us to forget the frozen night before.

At Walter Peak station we met up with the rest of the tourists coming from Queenstown via boat - sheepdog and sheep shearing presentations for the video camera carrying set. We loaded up our bikes on the Earnslaw, a 1912 twin-screw steam ship, for the cruise over the lake to the mecca of tourism excess in New Zealand: Queenstown.

This was the third time in 6 years that we've been in Queenstown, and it will probably be our last. The feeling of tourism excess are strongest here, and perhaps even more pronounced since we just came off a completely deserted station road from the previous two days. It's not as tacky as Banff, with it's Ye Olde Candle Shoppes, but the developers have still managed to blight a perfectly beautiful location.

Fortunately, Queenstown is a one-day ride from Glenorchy.

At Glenorchy, we once again found a quieter pace, fantastic scenery, and good tracks to cycle. We took a day ride up the Rees track on our mountain bikes, dodging cattle and sheep, and jumping countless fords before being turned back at the deep Rees River crossing.

Heading back up north, we cycled along to Wanaka via the Crown Pass. Up until just a year or two ago, this was a treacherous dirt road with sharp, steep switchbacks. Rental cars were not allowed on it back then. (Of course, 6 years ago, we drove it in a rental car - duh!) Now that progress has brought pavement to the road, it was still a tough ride, but at least we didn't have to deal with the dust and gravel, and the views were spectacular.

One note on pavement: in New Zealand, it seems that paving a road is quite a notable accomplishment. We'll be talking with a local person about a route, and they'll exclaim "oh, you'll love it - it's tar sealed [paved] all the way now!", as if they were saying "we've got electricity now!". We're not poking fun here, it's just fun to see that paving the road is tracked with such keen interest.

Heading west over Haast Pass, we came back into Sandfly Country™. Not that the sandflies ever actually leave you in New Zealand, but they're probably the thickest around Haast. They're like gnats, but they drink like ravenous mosquitoes, and leave a very itchy welt the next day. Liberal use of insect repellent helps to keep these little buggers away.

We got pretty lucky with the west coast weather - often called the "wet coast" for good reason. The areas around Fox and Franz Joseph Glaciers were beautiful, with very colorful sunsets over the Tasman Sea.

Cutting inland, we headed towards Abel Tasman National Park, set on the northwest corner of the South Island. It is one of the "Great Walks" of New Zealand, which can make it rather crowded at times. Fortunately, we were coming into the off-season period, so it wasn't too bad.

Dropping the bikes and trailers in town, we took a water taxi to the start of the track, carrying all our gear (clothes, food, cooking gear and sleeping bags) in our backpacks for the next 4 days. The hike was beautiful, crawling along the coast, dipping down to white sandy beaches before climbing back up through rainforest.

We've completed 4 months of travel in New Zealand, and we're still finding things to put on the list for the "next time" we return. There are so many walking tracks, picturesque little towns, winding roads perfect for cycling, mountains, valleys, rolling farmland, beaches - the "to-do" list keeps getting longer!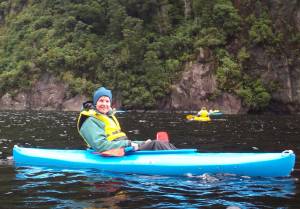 Shelley kayaks on Doubtful Sound,
Fiordland National Park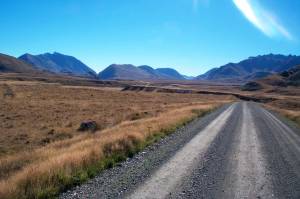 The road to Walter Peak Station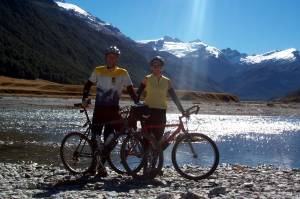 Cycling the Rees Valley, by Glenorchy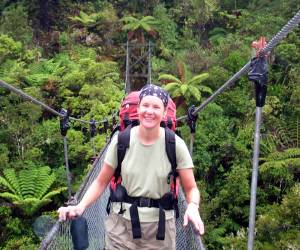 Shelley crosses a swing bridge
surrounded by rainforest
on the Abel Tasman coastal track