Hello again from New Zealand!

March brought us to the South Island of New Zealand. We took the Interislander ferry across the Cooks Straight from Wellington, NZ's capital city, to Picton, a relaxing 3 hour tour. (Yes, the tune from Gilligan's Island gets in your head now, doesn't it?) The South Island is often considered the more spectacular half of New Zealand, and it does have more wide-open spaces and taller mountain ranges than the North, as well as fewer people (and more sheep!).

This update will only cover the first week or so we spent on the South Island. It's that cool.

Up first: Molesworth Station, New Zealand's largest station at over 480,000 acres. It took us two days of cycling on gravel roads just to get to it from the nearest town of Blenheim. The gravel road through Molesworth was actually closed to cars when we arrived, but we had called ahead and received permission to cycle through from the manager of the station.

Before arriving at the gates, we stayed the night on Camden Station, where Steve scored a peacock tail feather to replace his lost BOB trailer flag. Frank, the owner of the station, was talking to us over our morning coffee: he had to make a quick flight down the valley to drop off a friend in a field at the edge of his property, and would we like to go? OF COURSE! We jumped in his vintage Cessna 180, and in minutes we were treated to fantastic views of the valley and around the Station. It was a fun, unexpected start for our day.

Cycling up to Molesworth had fantastic scenery, and pretty tough roads. Fortunately, there were enough streams for us to get good water, drinking straight out of the rivers. Yes, it's a cattle station. No, they don't have giardia there, thankfully! The ride was doubly tough on Steve's bike - a blown rear tire (cut sidewall) and a blown trailer tire (completely delaminated tread). Fortunately, we were able to patch up the tires well enough to get us through the next two and a half days riding to the next town.

Once we finally reached the gate signifying the start of Molesworth Station, we met the station manager, Jim Ward, who gave Steve a very hearty handshake and pointed us to a shaded place by the river where we could camp for the night. After a long day cycling with suspect tires, we were quite happy to finally arrive at the start of the station!

The campsite was right next to the historic Molesworth Cob Cottage, so named for the "Cob" material used to make it in 1866. "Cob" is a mixture of mud, straw, and animal dung, mixed by hand and built up like cement. I think the dung provides something (perhaps nitrogen?) to help fix the mixture, but the thought of living in a house with animal dung as one of it's primary building materials seems a little foreign to me!

Cycling over Ward Pass was up next on the day - with stunning views all around. Molesworth was quite dry, with very few trees except right next to the rivers. Descending from Ward Pass brought us to the opposite end of Molesworth Station, and another campsite by the river (and another Cob house, this one literally an accommodation house, or hotel, from the same era). We were serenaded by a possum that night - those things can me a lot of noise at 3AM.

Finally, in our 4th day of riding off-road, we crossed over Jollie's Pass and down into the resort village of Hanmer Springs - complete with (you guessed it) hot springs to soak our weary muscles.

After just one night of soaking, we were ready to jump back on the bikes to take on Rainbow Station, another cattle station adjacent to some of Molesworth. Two passes rose up in front of us on our first day - Jack's Pass right out of Hanmer, and then Island Saddle at the end of our first day of cycling. After the tough day of riding, we found a Department of Conservation backcountry hut where we could sleep for the night. It was heaven to have a simple bunk bed (and an outhouse), especially given it's fantastic location. The fact that it was unexpected was also a bonus.

Rainbow Station had one idiosyncrasy - the road is privately owned, and a toll was due at one of the gates. The hand-lettered sign (with honesty box attached) revealed the tolls:

| | |
| --- | --- |
| Cars: | $ 20.00 |
| Motorcycles: | $ 10.00 |
| Bicycles: | $ 1.00 |
| Possums: | $ 0.20 |
One more day of riding brought us through lots of fords (good for cleaning the dust off our sandals), past the Rainbow ski area, and finally out of the station and out to another town of St. Arnaud, where we could find a backpacker hostel and a hot shower.
The two off-road rides through Molesworth and Rainbow have helped to convince us that our next destination will be the Great Divide Trail - from Mexico to Canada along the continental divide in the USA. We are now planning the trip, probably starting in May 2002, and finishing perhaps 3 months later.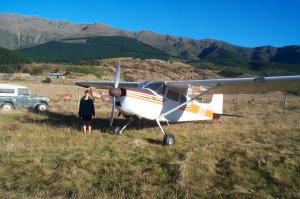 Frank's Cessna-180 gives us an
unexpected tour from Camden Station


Shelley at the gate to Molesworth Station,
NZ's largest Cattle Station
at over 480,000 acres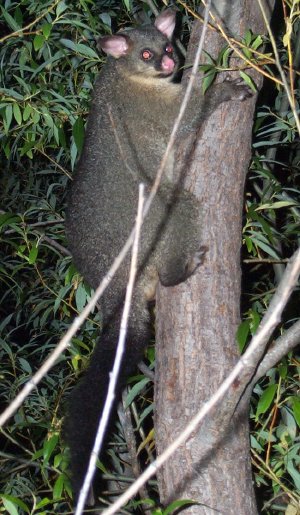 A possum interrupts our sleep,
Molesworth Station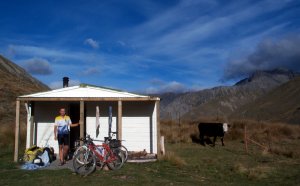 Steve and a friend at Island Saddle Hut,
Rainbow Station