Hello again from New Zealand!

We just completed another month in the North Island. We began the month up in the Bay of Islands area, northeast of Auckland. We met with Lyn and David Ellis, dear friends from Melbourne, Australia, who had flown over to New Zealand for a couple of weeks holiday. (You may recall that we spent some time with them in Melbourne and Wilson's Promontory National Park down in Australia at the beginning of our trip one year ago). We spent a couple of days with them, explored the area around Kerikeri, and even were able to watch the Super Bowl live on TV. We ate typically bad-for-you junk football-watching food while explaining the game of American Football to the Aussies, while they explained the game of Cricket to us Yankees. (Our first take on Cricket - guys in white throw the ball around, then break for tea).

After leaving David and Lyn, we cycled south towards Paihia, where we would stay for a couple of days for the Waitangi Day celebration. Waitangi Day marks the February 6, 1840 signing of the Treaty of Waitangi, where the Maori tribes accepted British governorship while granting citizenship and land rights. It has recently been a rather contentious day, as some of the more radical Maori believe that the treaty was unfair. Apparently, the Maori translation of the document differs a bit in the granting of land rights from the English version. The current Prime Minister of New Zealand, Helen Clark, had a run-in with protesters a few years ago, but this year she returned for the celebrations, and things were a little more reserved. (We didn't see any protests while we were there). We did get to see Maori men, dressed in traditional costume, paddling a huge Waka (canoe) holding about 50 men. It was carved from a huge Kauri tree - there aren't many of these 2000 year old trees left, as they were felled about a century ago for the timber industry.

We also took a boat ride out to see some of the islands in the "Bay of Islands" area, and watched a couple of pods of dolphins racing along in front of our ship.

Since we wanted to avoid the heavier traffic around Auckland, we jumped on a bus for Tauranga, a city southeast of Auckland (and south of the Coromandel Penninsula, where we spent our first couple of weeks). In Tauranga we were able to take in a "friendly" rugby match. "Friendly" in this case seems to mean that there was only one punch-up. Here we also had a few spokes replaced on Steve's rear wheel - a bent rear derailluer pushed the chain into the spokes, and the skinny butted spokes apparently lost the battle with the chain.

Cycling south towards Whakatane on the Bay of Plenty, we found a nice campsite and booked a trip to visit White Island, New Zealand's most active (and only marine) volcano, about 1.5 hours boat ride into the bay. The ride was a bit rough on the way out, but the scenery was quite interesting. The island used to have a working sulfur mine, but it has long since been abandoned, and has decayed to just a shell. Coming back was smoother (with the wind), and we again saw a few pods of curious dolphins swimming along with us.

After staying in Whakatane for a couple of days trying to wait out the rain that the winds brought, we finally bit the bullet and rode on south to Opotiki in constant misty rain. We were well rewarded when we got a nice hotel room with the "Sky Sports" channel. Shelley turned it on and saw that Steve's alma mater, the University of Kansas, was playing on TV live in a couple of hours! It was the first game we would be able to see this year, and we enjoyed having a BBQ and a couple of cold beers in the dry comfort of our room. It was helped by the fact that the game was great - an overtime thriller.

Continuing our cycling around the Bay of Plenty, we met Mike from Germany, who we would see for the next couple of days. We stayed with him in a couple of backpacker hostels, as well as one traditional pub-based hotel in a rough-and-tumble town of Ruatoria. It was here that we hung out with a group of men working on power lines in the area. We shared a big Kiwi meal of "Bacon Bones" (rough smoked pork ribs) at the hotel, then had a pretty poor night of sleep, as our small room was directly over the pub, and it was Friday night. I guess we're not as young as we used to be - perhaps a few years ago we might have joined in the party downstairs.

Finally we cycled on to Gisborne, one of the larger cities on the East Cape, right at the so-called "Poverty Bay". Captain Cook made his first landing in New Zealand in 1769, and decided the bay had nothing to offer. It is funny that it happens to be some of New Zealand's most fertile areas! Captain Cook's first meeting with the Maori was a disaster. The traditional Maori greeting is very aggressive and intimidating to someone not expecting it. The Maori warrior will yell and dance up to the newcomer, offering a branch on the ground in friendship. If the newcomer accepts it, all is well. However, to someone not understanding the custom, it looks more like a challenge (it did to us when we saw it demonstrated!). Cook's landing party was attacked at this first meeting, and several Maori were killed.

Gisborne was enjoying 15 minutes of additional fame while we visited. About two weeks previously, during a rough storm, the log transport ship "Jody F. Millenium" was being battered in port, and it's mooring lines kept snapping in the swell. The port pilot and the ship's captain decided to try to take the ship out to sea before it destroyed the port, but it was a couple of hours past high tide, and the ship bounced on the bottom as it tried to leave port, destroying it's steering gear. It made it less than a kilometer out of port before being beached on the Gisborne waterfront. When we arrived they had taken some of the logs off the boat via helicopter, and had 4 tugs (one came from Australia) trying to pull it free at high tides. We noted that the helicopter costs of trying to off-load the ship was probably more expensive than the logs themselves! Although we stayed for 4 days (enjoying our second Kansas game on TV), they didn't succeed in moving the ship. (It was finally pulled free about 2 weeks later).

Continuing our ride south, we came to Morere, basically a bump in the road with a small cafe, backpackers, and (most importantly) the Morere Hot Springs, where we soaked surrounded by trees.

Now heading west, along the Hawke Bay (well-known wine country), we stopped for the night at a working farm, where they have a small backpacker accommodation. The remote location was very nice, up at the top of a big hill, which would help our next day's ride by providing a mostly downhill, mostly tailwind day to shoot into Napier.

Napier was wiped out by a powerful earthquake back in 1931, destroying virtually all of this prosperous town. The town was rebuilt, leaving the city with one of the world's best collection of Art Deco architecture. We explored the city, walking around the streets to see all the buildings, most of which are well restored and maintained. Even the ubiquitous McDonald's is in an Art Deco building, and kept the original facade.

From Napier we cycled south through a seldom-used country road, where we were able to watch a man working a flock of sheep with the help of a pack of trained dogs. We understand that each dog has a special job - either pushing the sheep, barking, or perhaps gathering a stray. Once we had to leave this great country road for the last few kilometers into the city of Waipukarau, we decided we were getting close enough to Wellington that the traffic on the highways was getting a bit heavy, so we hopped on a bus to Wellington, where we'd stay for a few days with our friends Tony and Sharon.

We stayed with Tony and Sharon at their home high in the hills in Tawa, a suburb of Wellington, taking the train in to Wellington during the days to visit the city, and returning at night to enjoy dinner with Tony, Sharon, and kids Celeste, Charlotte, and Cameron. It was a nice relaxing end to the month, and we would leave for the South Island on the ferry at the first of March.

Our take on the North Island was that it is quite beautiful, interestingly diverse, although not as stunning as the South Island. There are more people (and of course more towns), making getting provisions a bit easier than it will be on the South Island.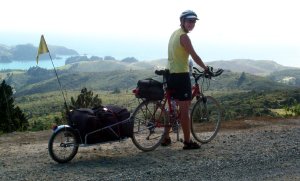 Shelley near Tauranga Bay


Memorial to the Rainbow Warrior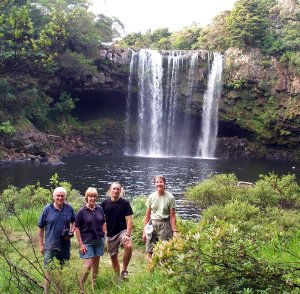 With David and Lyn at at falls near Kerikeri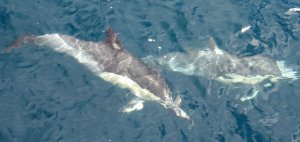 Dolphins off Paihaia, Bay of Islands

A cruise ship dwarfs a NZ Navy ship
near Russell, Bay of Islands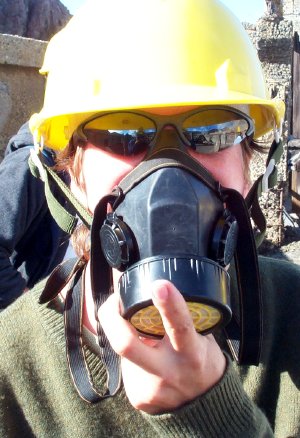 Shelley is equipped for a hike on
the volcano at White Island


Volcano at White Island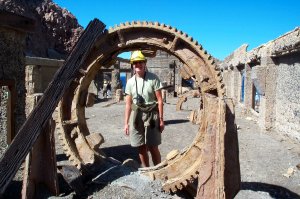 Old sulpher works at White Island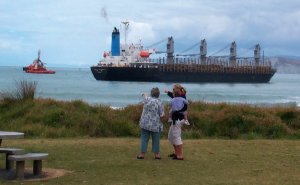 The stranded Jody F. Millenium off Gisborne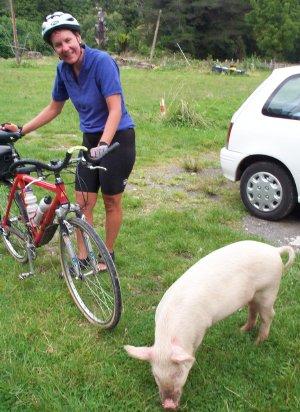 Shelley and a new friend
Oink!