The end stretch is here! We've arrived in northern Montana, cycling a combination of remote wilderness areas with a couple of cities (or, what could be called a city by Montana standards) thrown in for good measure.

We started the state by cycling along the divide in the western part of the state, near where Idaho, Wyoming and Montana meet. Our first day would be up through a spectacular canyon along the Big Sheep Creek Back Country Byway, stopping in the high country in a basin next to an old abandoned cattle station. At the beginning of the road we saw a sign warning that the road would be impassible in the event of rain. Sure enough, it rained most of the night, and when we woke up, the road had a slick, sticky coating of mud. Sometimes mountain biking in the mud is fun - but when it completely clogs the space between the wheels and the bike frame, causing the bike to stop dead in it's track, it's not a good time! We pushed and slided for perhaps a mile in the morning before deciding that we'd never get out of the backcountry at that rate, and we pulled over to the side of the road and spread out a tarp to lay down on. About 90 minutes later, the sun and wind had come out and helped to dry up most of the road - at least enough for us to race the approaching clouds to the paved road about 30 miles away.

The next day was a different story. We cycled up to Elkhorn Hot Springs, a refreshingly non-touristy resort (mostly for locals), where we could camp for free with an admission to the hot pools. A hot soak, nice campground, even a pretty good cafe on site - all a day's ride from another town.

We pushed quickly up to Butte, a town of about 25000 people (pretty big by Montana standards), sitting right next to the Berkeley Pit, a huge Superfund cleanup site. It is a legacy from Butte's old mining days, and actually helps to keep the economy going - now that the mining jobs are gone, the cleanup jobs are a help!

While in Butte, we were treated to Montana's fickle weather. A hailstorm one afternoon dropped a few inches of hail on the ground, which was still around a few hours later, looking like chunky snow. The high for the day was something like 45F (7C). In August. Fortunately, we were inside, and could wait out the cold snap for a day.

A couple of days riding brought us up to Helena, Montana's capitol city. It's a bit nicer than the rough-and-tumble mining town of Butte, and we spent a day exploring the capitol building and historical museum. We actually got a few 'private' tours of the capitol's rooms by some of the representatives, checking out the C.M. Russell murals all around the building.

Another couple of days up to Lincoln, a small town now made a little more famous because of past resident Ted Kaczynski, the Unabomber. (We believe we rode past the site of his old shack on the way in to the town.)

When climbing out of Lincoln the next day, we started seeing lots of cyclists on the trail. Now, up until this time, we have seen perhaps 8 full-distance cyclists going south, and two dozen section (partial distance) riders on the Great Divide trail. Today, we would see 53 people doing a section of the divide through Montana with the Adventure Cycling Association. Fully supported, they had their gear carried, water and food supplied along the trail - even orange painted arrows on the ground to indicate the turning places. Some of the riders were entirely too serious about this thing. Relax, folks! You're on vacation! Others stopped to talk to us for a while, including a couple of members of the ACA staff. We even scored a few leftover sandwiches from their lunch stop for our dinner that night - yum!

We came down towards the Swan River valley, stopping in Seeley Lake, and stocking up on provisions for the next few days ride. We also met a nice couple from St. Louis, Jim and Jan, who shared a glass of wine and some nice conversation through the evening.

Up the valley we went - we would skirt the main road, cycling into the wilder parts of the valley on old, abandoned forest roads and nordic ski trails. Perhaps most of the singletrack of the divide ride is located in this valley, and we were treated to gnarly, rocky trails with tree branches swatting at our arms and legs. In short, it was wonderful!

Our stop at Holland Lake was also memorable, this time for the camphost, 76 year old Jerry Bell, a WW2 and Korea vet, and a ranger of the nearby Glacier National Park for some 40 years. What a guy - he even had a set of weights outside his trailer (just in case we needed more exercise after our ride). As we were setting up our tent, he brought over a couple of cold beers. We hope we're as active as he is in another 40 years.

A few days later we made it to Whitefish, a nice, but slightly touristy town that features year-round entertainment (skiing in the winter, all kinds of outdoor stuff in the summer). We stayed a few days to relax, escape a little bad weather, and enjoy some restaurant-cooked food (no instant noodles for a while).

For the next three days, we cycled through the Whitefish Range, the wild country west of Glacier National Park, crossing over Red Meadow Pass and the Whitefish Divide in one day. This stunningly beautiful, but remote area is where 'problem bears' are released - and we would 'free-camp' a couple of nights out there. We were especially cautious about hanging our food in the trees to avoid any problems! Fortunately, we appeared to have the entire national forest to ourselves - including no bear sightings.

We skirted the Canadian border for a while, heading west, then shooting north to the Port of Roosville, and the official end of the Great Divide Mountain Bike Trail. It was with mixed emotions that we hit the border crossing.

It's been a fantastic ride through some very remote and wild country - and just 60 days of riding from Mexico to Canada. It certainly seemed to go pretty fast for us! In that time we cycled over 2600 miles (4160 km), about 90% of it on dirt roads, trails, or singletrack, and often several days ride away from a town. We went through just one tire and had perhaps a dozen flats, one broken BOB trailer, and ate a metric ton of pop-tarts and instant noodles.

Now that we've crossed the USA from west to east, and then from south to north, we're looking for what our next adventure will be. We hear the tick of the clock winding us down to the end of Plan B. Thanks for coming along this far with us!

Shelley rides up the Big Sheep Creek
Back Country Byway, west of Lima, MT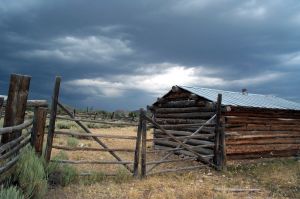 A rustic campsite near Morrison Lake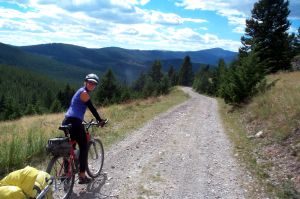 North of Helena, MT,
near "Deadman Creek" campsite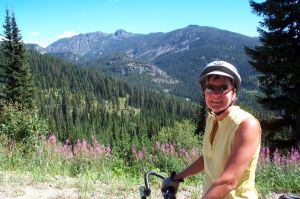 Wildflowers and mountain peaks
near Holland Lake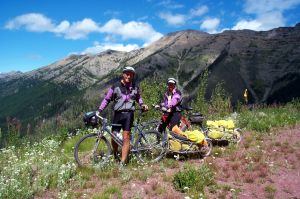 A view near Holland Lake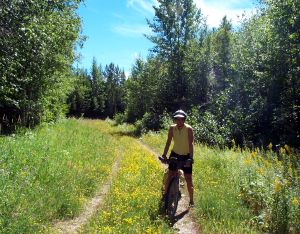 Yellow flowers down the middle of the "Road"
near Swan Lake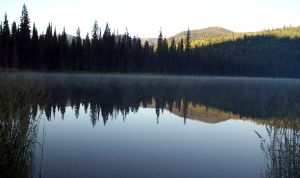 Misty morning at Upper Whitefish Lake
west of Glacier National Park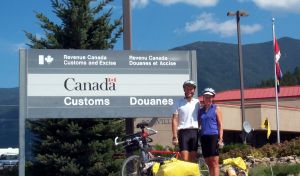 Finish Line!
At the Port of Roosville border crossing.