About 200 years ago, you might be able to read a newspaper and find this advertisement:

| | | |
| --- | --- | --- |
| | Wanted: Healthy, robust young men to explore Missouri River. Preferably unmarried. Special consideration given to boatmen, blacksmiths, gunsmiths, and hunters. Must be willing to risk death. Salary $5 per month. Gentlemen's sons need not apply. | |
Sound intriguing? That's just what a group of 40 intrepid young people (mostly 25 year old men) did when they joined Meriwether Lewis and William Clark and the Corps of Discovery in 1804. They traveled some 8000 miles from St. Louis, up the Missouri River, over the Rockies, and down the Columbia River to the Pacific Ocean, and then back. The Lewis and Clark Expedition helped to open the American west at a time when very little was known (by white Americans, at least) about the wild lands west of the Mississippi River.
When we were completing our ride up the Continental Divide, we were trying to decide how we might head back down towards Kansas, our planned base of operations for the return to Plan A. A few thoughts came to mind. Getting a vintage 1960's era convertible, put some Bruce Springsteen on the tape deck, and cruising the way home? Maybe a couple of Harley Davidson motorcycles? Hitchhike? But after a year and a half on bicycles, it seemed only logical that we'd continue to pedal our miles away.
We had heard that the Adventure Cycling Association was putting together a new bicycle route following the Lewis and Clark route in honor of the bicentennial of the expedition. Although the maps won't be ready until next spring, the fine people at ACA were willing to give us advance copies of the drafts, and we'll send any updates or comments back to them at the end of the tour.
After a trip through Glacier National Park (including another climb of Logan Pass and the Going to the Sun Road), we'll hook up with the Lewis and Clark trail in Great Falls, Montana, and then follow the Missouri River through North Dakota, South Dakota, Nebraska, Iowa, and finally into Kansas. The 2000 miles of the route we'll follow will be on-road, similar to the Transamerica trail - visiting small towns along the way. We expect to complete the tour in about a month, arriving at Shelley's parent's home in Derby, Kansas at the beginning of October 2002. (At which time reality may come crashing down - and we'll start the transition from Plan B back to Plan A.)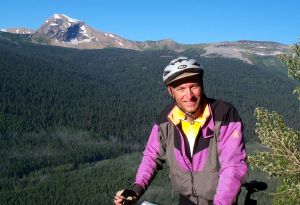 Steve cycles in Glacier National Park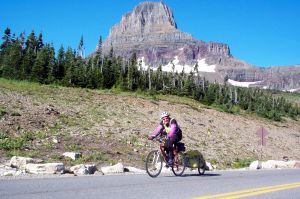 Shelley climbing Logan Pass
in Glacier National Park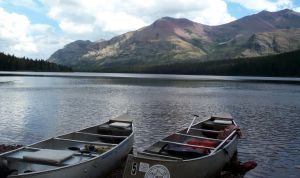 Two Medicine Lake
in Glacier National Park