When we last wrote, we were crossing from Colorado to western Kansas - the state where Shelley and I went to High School and College.

Western Kansas is very flat, windy, filled with farms. Arriving in Leoti in 100F heat, we started looking for a place to cool off. Within just a few minutes a lady in a pickup pulled up to invite us to stay with her for the night. (You should know that virtually *all* the Transamerica bike riders we encountered out west coming from Kansas all commented about how friendly the people in Kansas were.)

Back to Leoti - and Marcia, inviting two hot, sweaty strangers into her home for the night. Marcia and Lanny Mehl seemed to be the center of the town, even though they lived 5 miles outside on a huge farm. Lots of people were visiting her home, and she was effortlessly feeding and entertaining everyone. We were offered food, showers, and a comfortable bed. Marcia and Lanny farmed over 5000 acres of land - a pretty big operation! Thanks to these fine people, we had one of the most memorable stops in our entire trip.

Also in Leoti - we wanted to visit the "Museum of the Plains", but arrived to find it closed for the day. Not to worry - as Marcia was inviting us to stay at her home, she also called over to a friend at the building, and arranged for us to take a private tour of the museum. It is hard to imagine someone opening up a museum in a big city for a couple of out-of-town guests.

Kansas is known for being flat - and also for having lots of wind. We were fortunate to have a couple of days of tailwinds as we entered the state, helping us to 90+ mile days, but the days afterwards we were hit with headwinds that nearly stopped us in our tracks. We also got to witness one of those famous Kansas thunderstorms rolling in one evening - fortunately from the comfort of a hotel. Pushing on, we worked hard to get down to Derby, out home town, and where Shelley's parents still live.

Derby was a small vacation from our trip - we would spend nearly 3 weeks in Kansas off the bike. In addition, Steve's parents flew up from Houston to visit for about a week.

We started with a trip to Mrs. Johnson's 4th and 5th grade classes at the El Paso Elementary School in Derby. We had corresponded with the 5th graders last year, and it was fun to be able to speak with them in person for a change. We put on a small slide presentation, showed them the bike, gear, and answered *lots* of questions. We had a great time visiting with them.

Right after the presentation, we had to face facts about the tandem - it was time to completely strip it and send it back to California for serious repairs. The welding on the road wasn't going to work for another year. While it would take a few weeks to get repaired, we didn't want to take the time, and decided to change to single mountain bikes, which would also give us more flexibility in traveling off-road. We had Shelley's bike shipped to us (thanks to Joe, who had it in his garage in NJ). Steve's was not accessible (in storage), so he did some shopping and bought a used bike and a new trailer. We really miss riding on the tandem - it was very nice to be next to each other all day, making conversation very easy. It is certainly missed in these past few weeks, as we both have a lot on our minds.

Before leaving, we were able to go up to Kansas City to visit friends Dianne and Kevin, Katie and Bob (old college friends), and to go to a KU football game (they won, amazingly enough!).

The day we were to leave Shelley's parent's home on the bikes was originally September 11. We waited another day before hitting the road.

Shelley is now riding a Cannondale M700, pulling the old BOB trailer with the camping gear. Steve is riding a Specialized M2, pulling the new BOB trailer with clothes and other stuff. We started towards Missouri with a very hard ride of 90+ miles, including 25 miles off-road. Shelley proved that she had *indeed* been pedaling all those 5000 miles on the tandem, barely breaking a sweat in the 100 degree weather.

Before leaving Kansas, we stopped by the town of West Mineral to visit "Big Brutus" - a huge coal shovel used in strip-mining operations about 35 years ago. It now stands as a museum in the middle of a field. It beat the 'big dump truck' of Canada hands down!

After just a couple of days, we hit Missouri, and the Ozark mountains - a change from the rolling plains of Kansas.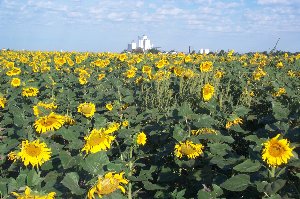 Sunflowers in Kansas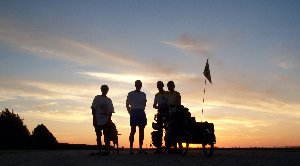 Sunrise with the Mehls
Leoti, Kansas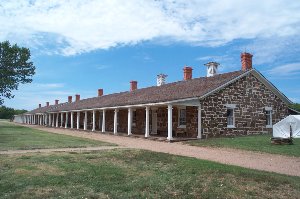 Fort Larned, Kansas:
on the Santa Fe Trail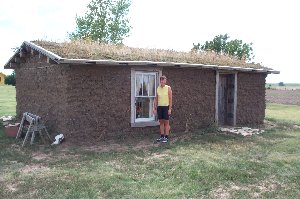 Pioneer "Sod" House
Santa Fe Trail, Larned, Kansas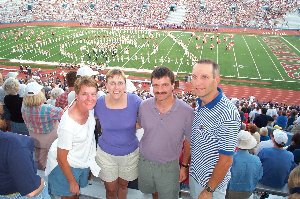 At the KU Game with Dianne and Kevin
(KU won, amazingly enough!)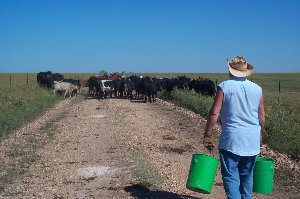 Sharing the "road" in Southeast Kansas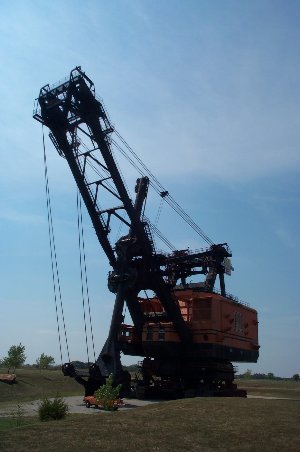 Big Brutus
West Mineral, Kansas