It's been an interesting year.
We marked a full year on this Plan B thing in mid-March. In that time, we've logged about 9,000 miles (14,400 km) in about 200 days of riding.
A quick look back for some highlights (and lowlights):

Most memorable accomodation:
Being invited into Mehl home in Leoti, Kansas USA
Volunteer fire station, Utica, Kentucky USA
Methodist churches in Rosedale and Independence, Virginia USA
Free-camp in a sheep field, Easter 2001, in the wilderness somewhere north of Suggan Buggan, Australia
Department of Conservation Hut, Rainbow Station, South Island, New Zealand

Worst accomodation:
Goodman Motel, Booneville, Kentucky - the only place in town, and not cleaned or updated since 1973. We pledged to always ask to see the room first, and would free-camp by the road if we encountered another like it.
Camping surrounded by loud (but friendly) drunks, Buchan Caves, Australia

Memorable wildlife:
Kangaroos hopping by the tent, Buchan Caves, Australia
Elk outside the tent, Yellowstone National Park, Wyoming, USA
Possums in the tree next to the tent, Molesworth, New Zealand
Rattlesnake in the road, Leoti, Kansas
Koala, Echidna, Wombat, Sea Turtle in Australia
Elk, Moose, Bear in USA and Canadian Rockies

Fastest Riding, single day:
Average 21 mph (33.6 km/h) for 90 miles (144 km) between Eads, Colorado and Leoti, Kansas, August 20, 2001 - flat and light tailwinds.

Slowest Riding, single day:
4.5 mph (7 km/h) daily average on dirt roads in Kosciuszko National Park, Australia - steep hills, gravel roads with extreme washboard surface

Top Speed:
55 mph (88 km/h) near Columbia Icefields, Alberta, Canada

Highest Elevation:
Hoosier Pass, Colorado, 11542 ft (3518 m) - completed with a broken rear axle on the tandem.

Lowest Elevation:
Coal mine by Venus Bay, Australia, about 500 ft underground

Broken and Worn Out Stuff:
Rear axle, tandem, twice
Rear dropout, tandem, welded three times before being swapped for mountain bikes
Rear wheel completely worn through the rim on Shelley's 8 year old Cannondale mountain bike (get off those brakes!)
6 tires (tandem), 5 tires (mountain bikes), 2 tires (BOB trailers), about as many tubes, probably 20 flats.
One BOB trailer quick release axle
Chains (4), gear clusters (4), chainrings (2), brake pads (5 pair)
SPD Shoes (2 pair Shimano sandals, 2 pair Shimano MTB shoes)
Madden front bag (replaced under warranty)
MSR Dragonfly stove (repaired under warranty)
Water bottles (4) and cages (2)

Best tires:
Continental Top-Touring 2000, 700c-32 on the tandem, used by the vast majority of transamerican cyclists, about US$40 each, lasting about 2000 miles.
Performance ST 26"-1.5" slicks on the mountain bikes, lasting nearly 3000 miles before we just threw them out (they probably had another couple of thousand miles left, but we had replacements ready), for only US$6 each (mail-order). Probably the best tire value ever.

Best Mass-transit:
Bus service (intercity), Spain - friendly, helpful, inexpensive, on-time
Train service, Wellington and South Island of New Zealand

Worst Mass-transit:
Bus service (intercity), Portugal - surly, not helpful, poor service
Train service, Wellington (wildcat strike at evening rush hour)

Best Breakfast:
Churros y Chocolate, Spain (fried stick donuts with thick hot chocolate for dipping)
Tostadas, Spain (toasted roll with olive oil and crushed tomatoes), along with a strong Cafe con Leche, coffee with steamed milk
Huge stack of pancakes nearly the size of your head, Mitchell, Oregon, USA (the pet black bear outside the cafe got the leftovers). We were told that the only person to ever finish the full stack was a "little lady riding her bicycle" - of course, we found out after we ordered the full stack!
Torradas y Gallao, Portugal (thick toast with butter on both sides, with hot milky coffee).

"Big" Stuff:
Big Trout, Adaminaby, Australia
Big Merino, Goulburn, Australia
Big Dump Truck (Titan Hauler), Alberta, Canada
Big Brutus (Coal Shovel), West Mineral, Kansas USA
Big (ahem) Rock, Estremoz, Portugal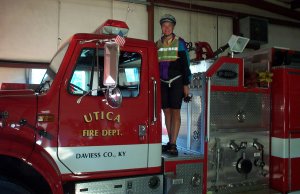 Shelley plays firefighter for the night,
Utica, Kentucky, USA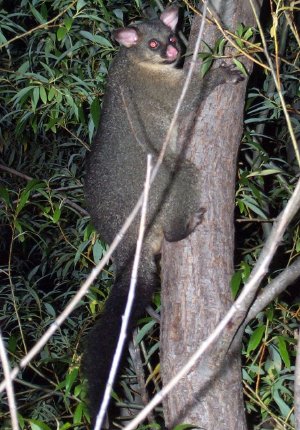 Possum making a ruckus outside our tent,
Molesworth Station,
South Island, New Zealand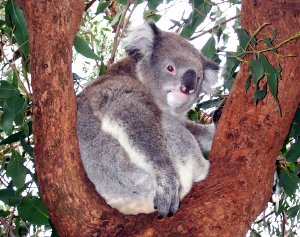 Koala in Victoria, Australia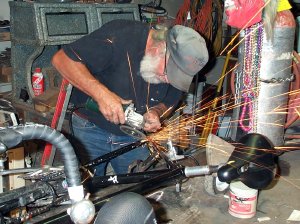 Bill Soux welds the tandem frame,
Guffy, Colorado, USA


Highest Elevation - 11,542 ft
Hooser Pass, Colorado


Lowest Elevation: Coal mine in
Victoria, Australia (photo © D. Ellis)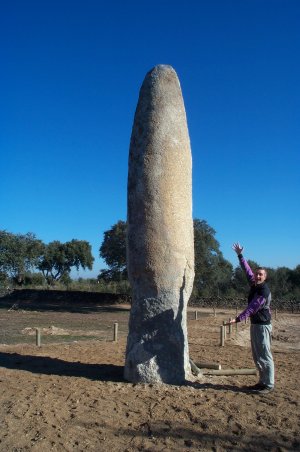 Big (ahem) Rock,
Estremoz, Portugal